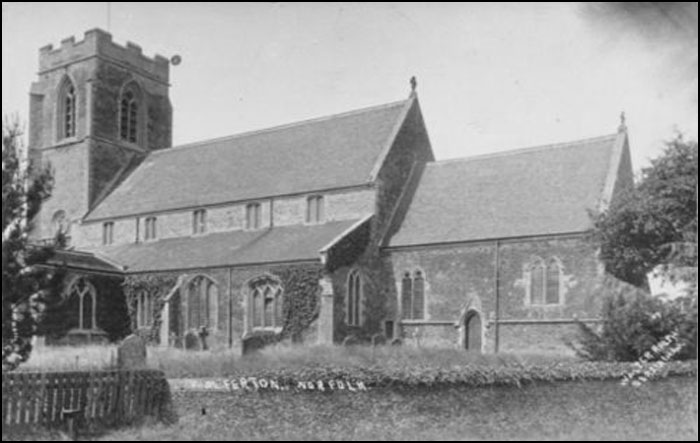 Our Church
By Paul Ringwood
May 2011
Perhaps I am biased, but I reckon that Wolferton is one of Norfolk's prettiest and better kept villages.  The road through the village is really a loop with The Royal Station on one side and Wolferton Church on the other.  The Church itself is more than seven hundred years old and steeped in history.  Open every day of the year and still holding regular services, dates and times of which may be found in The Sandringham Group  of Churches Newsletter.
As a lay reader I have been asked to write this article, although 'Reader' as such comprises essentially of believing, preaching and teaching. A ministry served under the Parish Priest and licensed by the Diocese Bishop.  My ministry really is the taking of morning and evening prayer at one or other of the three Churches within the parish group.
One of the joys for my wife and I is living immediately opposite the Church.  Most days we see people coming and going, some visiting the Church itself while others just the Churchyard.  One of the most used comments in our visitors' book is 'Peaceful', Peace I feel brought about by centuries of prayer.
During the summer months there are many visitors, no more so than when the village hosts its own Scarecrow Festival, when the Church and Churchyard become a centre of activity.
In recent years the Church and by this I mean the Church collectively, now faces many challenges, with those of Rural Churches being somewhat different to those in Towns or Cities but they are just as real.  Whatever the challenges may be, the Church I feel has to be mainly relevant to the local community it serves.  All here at St Peter's work towards making our Church just that, a Centre for Worship and a place dear to the hearts of all living here … and indeed to all those who pass through her doors!
I think the testimony of all at St Peter's; Wolferton must be in the words of the hymn.
We love the place, O God
Where thine honour dwells;
The joy of thine abode
All earthly joy excels.
It is the house of prayer,
Wherein thy servants meet,
And thou, O Lord, art there
Thy chosen flock to meet,
May our Church always be that special place!