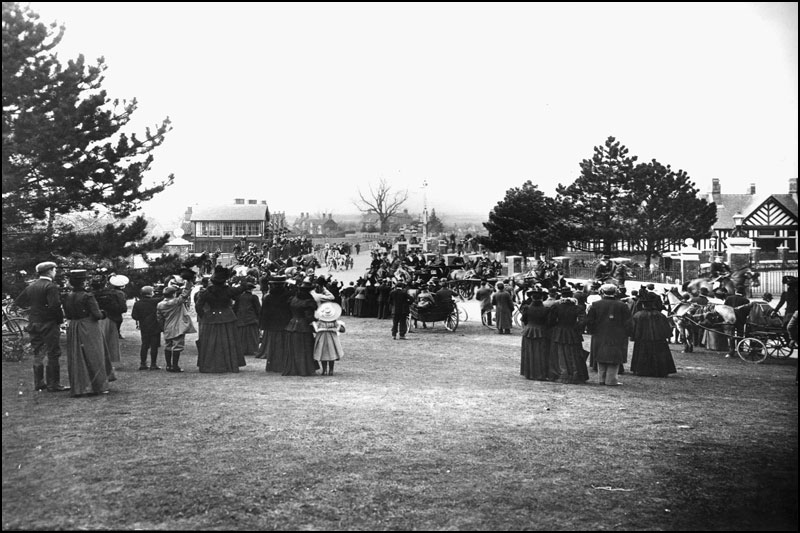 Although for over a century numerous personal contacts with members of the Royal Family experienced by railway staff in the course of duty, have provided feelings of pride throughout the industry, at no place have these happy associations been so frequent than at Wolferton Station, Norfolk. Until 1862, Wolferton was a typically quiet, unimportant roadside station claiming little prominence beyond a certain local dignity common to most countryside stations, but in that year the nearby Sandringham Estate was purchased by the Prince of Wales who later became King Edward VII, and when, in 1863, the Prince married Princess Alexandra of Denmark, bringing his royal bride to dwell at Sandringham House, the little station overnight, as-it-were, assumed an importance so unique that one might reasonably compare its rapid exaltation to a fairy tale. So thrilled and contented were the Prince and Princess with their lovely Norfolk home that they appeared reluctant to stray from its precincts, and as their children grew up around them it became increasingly the custom for numerous royal personages to make visits to Sandringham House, using Wolferton Station for arrival and departure.  Because of this more intensive use of the station and as its amenities were not considered to be in keeping with this new-found dignity, alterations were made in 1876, which included provision of a handsome suite of royal waiting rooms.
By 1898, it was found necessary to double the railway line between Lynn and Wolferton and, at the same time, the station was rebuilt to include a new suite of royal rooms on the down side in addition to those already standing on the up platform. Apart from regular visits of Ministers of State and other notabilities, the number of "royal occasions" must have caused considerable activity for the little staff at Wolferton in those early days of its elevated dignity.  Just let us take a peep into the diary of the Station Master at that time to gain some idea of the important arrivals recorded.
These are but some examples of such important visits. Mr H.L. Saward. Station Master, records no less than 645 special royal trains being worked in and out of Wolferton station during the first 27 years of his appointment there. Mr. Saward retired in May 1925 after 40 years service as Station Master at Wolferton.
July

July

February

November

February

April

November

November

November

November

March

November

November

1893

1893

1894

1895

1897

1899

1899

1902

1902

1905

1907

1907

1907

Duke and Duchess of York

King and Queen of Denmark

Empress Frederic of Germany

King Carlos of Portugal

Empress Frederic of Germany

Queen Victoria

The German Emperor & Empress

The German Emperor

King Carlos of Portugal

King of the Hellenes

Dowager Empress of Russia

Queen of Portugal

King and Queen of Spain