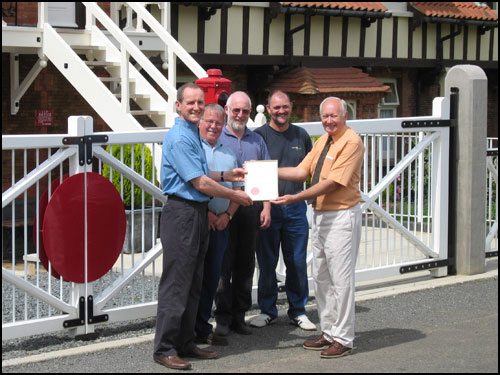 (L to R) Richard Brown receiving the Mayors Award in 2004.
Centre, the Restoration Team: Jim Holland, David Jackson & David Rigby,
with Martin Cove of the Parish Council
A Station Royal
By M.R.WINDLE
The Prince, a landowner in this shire
so, a station did require.
The Great Eastern Railway swift to please,
a station built just for his ease.
Twas well styled, designed with taste,
built well and strong but not with haste.
The Prince did like it well, we are told
and hunting parties there did hold.
It had parlours for he and, his bride
both well furnished, calm inside.
The station became a stylish spot
and a stream of aristocrats it got.
King, Queen, Duke and Lord
have waited here the train to board.
The Tsar, The Kaiser and King of Spain,
all arrived here on the train.
Rasputin here once did disembark
and back to London sent quite sharp.
Queen Victoria did like it well
and came each Christmas for a spell.
Each English monarch has used this station
ministers too, their destination.
The royal children did love it well,
one, in the signal box would dwell
Elizabeth our beloved Queen
was the last royal by the station seen.
The line torn up, the station closed,
and then the question by the railway posed,
What to do with this station,
this treasure of the English nation.
The station was sold to a railway man
like most of us, a monarchist fan.
It became open for all to see
but this was not for long to be.
Then it was got by a man named Brown
who, restored its look, removed its frown.
Flowers bloom and flags fly fine,
paths are swept and windows shine.
This placed is loved and held in trust
and show respect we all must.
The work, the care done for our nation
God Bless this place, our Royal Station.
Copyright © Richard Brown 2005