A Royal Whistle Blower
by M R Windle
A five year old Prince of Wales seeing off his great grandmother Queen Mary from Wolferton Station, asked the guard if he may look at his whistle, the guard abliged and passed it to him, without further a-do Charles blew the whistle, thus setting off the train!!
A rather startled guard found himself having to run alongside and with only moments to spare jump on to the moving train! Much to the amusement of those on the platform which included a waving Queen Mother.
This and other 'Royal Rail Tales' are featured in the book 'Stately Progress'
Other stories in the book, why Queen Victoria purchased the Sandringham Estate for her son Edward and how the Royals came to use and influence the design and development of Wolferton station.
The book compiled by Amba Kumar and published by the National Railway Museum is available direct from the
NRM in York.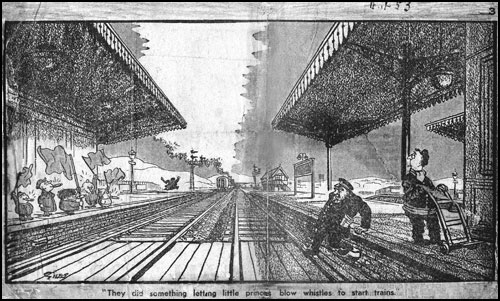 Copyright © Carl Giles
Daily Express & Sunday Express Carrtoons
Cartoon kindly supplied by Bryan Skillings, son of Wolferton Station Master
Mr Edmund Skillings 1952 – 1966